Over the next week there will be two opportunities to meet wireless communities and Freifunker from Germany and all over the world. Don't miss the chance to build networks outside of your own community.
Wireless Community Weekend (WCW)
The Wireless Community Weekend will follow the 13 years of tradition also in 2017 and take place in the c-base space station in Berlin. From the 26th to the 28th of May the Freifunk community will meet with their guests to create an unconference and hackathon.
How to WCW:
Add your nick/name and meal preferences to participants page
Add your session and timeslot to the timetable
Looking for accommodation or for offering a couch, use the accomodation page
Invite people that may be interested or you find interesting to meet
Use #ffwcw as hashtag on twitter to spread the event
Forward this mail also to other channels, groups
Add your endorsement here
Land around 12:00 at the space station
There is free coffee but no free beer* :p
Do only smoke outside the building
Get an eco, fair-trade Freifunk Hoodie or Tee close to the cost price
Donate food specialties** or EUR for the endless BBQ on site
Have fun and make new friends :))
Battlemesh v10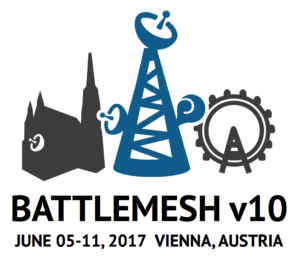 The first week of June in Vienna, there will be the tenth edition of the Wireless Battle of the Mesh (WBM). WBM is the most important international community-organized event that gathers all the activists of community networks around the Europe, and lately, also from outside Europe. During the event the developers of the most used open source routing protocols set-up a testbed and "battle" to understand which protocol performs better. It is a great chance for all the devels to debug, exchange ideas and improve their software, but it is also a great chance for all those interested in community networks to enter in contact with other people and exchange experiences.
freifunk endorses the event. People from freifunk will be at the WBM, and we invite everyone interested in community networks to join us in Vienna!
This post is also available in: German